In 1978 I was selling printing for a Chicago company who gave me a gold American Express card without any adult supervision. My territory was New York City and Minneapolis MN. This was a great time for Bruce and me and I am grateful to them for the wonderful trip here in '78 and '79. Bruce was in his "Big Hair" phase and was rockin' out on guitar. I built a battery powered amplifier into the case of my Fender Mustang (I gave it to Bruce for his collection) and brought it along. He played while I worked.
We stayed at The Radisson Hotel downtown and Bruce had his first bigtime "star" moments when the hotel maid came to clean the room and Bruce was playing guitar in the room. She wandered in and screamed, "It's Billy Joel !"
No way to top that except to sell out a 50,000 seat arena.
The 1979 Minneapolis was quite different from the '78 version. We stayed at the new Mall of America Radisson hotel. I still made sales calls but this time Bruce got into a very interesting situation.
The new Radisson had an indoor pool and atrium. Our room was next to the pool and we had a patio. To enjoy it and relax a little I ordered shrimp cocktails and drinks for happy hour. We ate by the pool and Bruce related his outrageous tale.
He decided to take the bus and go exploring quite a distance from the hotel. When he planned to return he was told the bus route wasn't running at that time of day. The stadium was across the parking lot from the hotel and he told the bus driver that he was Ted Sizemore with the Boston Red Sox and needed to get to the stadium for that night's game. The bus driver drove him back to the player's entrance at the stadium and Bruce got home!
We also went to Jay's Longhorn Bar to see Wazmo Nariz, a Chicago based singer that Bruce knew . It was a unique experience. While waiting for Waz to play, the warm up band just walked through the crowd and took the stage. It was The Police and Sting just walked past us. Hear the set on YouTube: https://www.youtube.com/watch?v=vzNTf3sLsHQ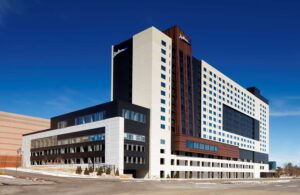 we saw Sting and The Police in their first trip to the US, Bruce impersonated Ted Sizemore of the Boston Red Sox so he could hijack a bus, and he was mistaken for Billy Joel. A great start for what became
Bruce and Nowell's Excellent Adventures.